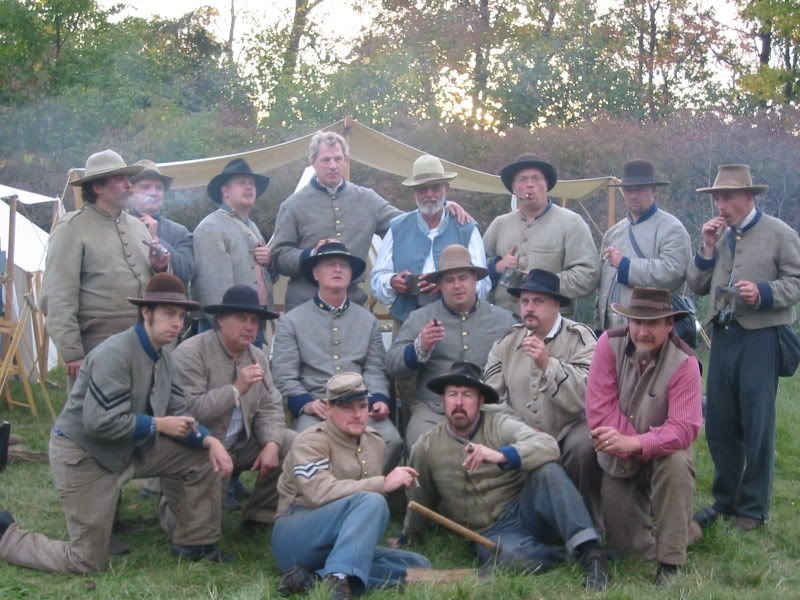 Arnold,
here I'm with the 10Th Tennessee civil
war unit out of Wisconsin. the cigars went over great
with the men, I felt the cigars were very well made
and held up very well,your hospitality has been great
thank you.In greatest appreciation Sgt Bob krist tenth
Tennessee company D.
www.Tenthtennessee.org
Mr Bob Krist
Sal M (CT) "These Cigars are great, nice even burn, and the taste is so amazing, Keep up the Good Work!"
Gary R (RACINE, WI) "It is a pleasure doing business with you. Good service and quality cigars always make my decision easy when it comes down to where to buy from. Thanks for all your great advice also"
Mark B. (MA) "Very impressed with the fine quality, promt delivery, and the price!"
Brandon L. (CA) " Smoked one at work this afternoon and I didn't want it to end from start to finish it kicked Ass! The tasted is still rocking, and that was two hours ago! I highly recommend it, Thanks again and again"
Jim S. (NE) "We smoked a few this weekend they were great,the free shipping and the free gifts were also great. Will be glad to buy from you in the future"
Jessie S. (MO) "Just received the cigars last night, they are great, thanks!"
Glenn I. (TX) "The cigars were great, the Gigantes are spectacular, the torpedos are great, you are the MAN!".
Colin M. (Scotland, England) "Cigars arrived today. I'm very happy with the cigars". Hopefully will do business in the future, and I have already put a friend in your direction. Hope you get some more business".
John S. (PA) "The extra largos, and the Magnum Piramides are beautiful, they are winners"
Jerry A (Indianapolis, IN) "Got the box yesterday...great as always. I had a Serafin Pyramide last night and it is Great! I was thrilled to be smoking a real cigar again. Thanks again!
Robert L. (CO)"Once again a fine box of smokes! very
good and smooth cigars to the end. Thanks again"
Bill H. (FL) "Just got the cigars yesterday, smoked one last night and I love them! They are truly great cigars, Thanks!"
Jim (Toronto, CANADA)
Great Job with the cigars, they are just like the Cubans! Keep up the good work!